My Custom Shoes
Designed and Made By My Dad
Lermont Moukoian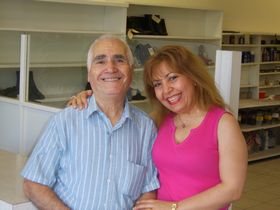 Here you can see the photos of my custom shoes designed and made by my Dad Lermont Moukoian back in 1972-1975. I never wore shoes bought from a store until we moved to the United States from Armenia in 1976.
My Dad designed and made all our shoes-for me, for my two brothers, for my Mom, and for himself. All my friends were jealous of me because my shoes always stood out and looked much nicer than theirs.

It is amazing how good these shoes still look after all these years! I can credit that to my Dad's high quality work.
This is a clear proof of my Dad's excellent skills and talents. I'm so proud of my Dad Lermont Moukoian.
After we moved to the United States he stopped designing and making custom shoes because he got into the shoe repair business. He has been working in that specific field since 1976.
You can ask other shoe repair men, if they've ever designed or made shoes by themselves.
If they are honest, most of them (if not all of them) will tell you "No."
When it comes to shoe repair, my Dad Lermont Moukoian is unique because of his skills and ability to make custom shoes. He is capable of fixing particularly difficult shoe problems that other shoe repair men would either turn down or make worse.
Don't take my word for it. Just read a few of his customers' testimonies on the Home Page.
You might think that I'm saying all this because Lermont is my Dad.

Maybe I like to brag about him a little.

But you can try him and see for yourself.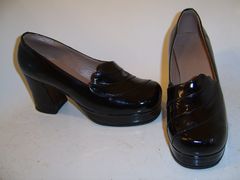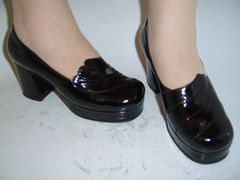 If you need a shoe repair expert and you live in the Los Angeles area, you can visit my Dad's shoe repair shop at 4121 Pennsylvania Avenue, Suite J, La Crescenta, CA 91214.
The cross street is Montrose Avenue. It is right off of Freeway 210. His shoe repair shop is convenient to visit if you live in the Foothill Boulevard area, in Tujunga, La Crescenta, La Canada Flintridge, Pasadena, Verdugo Hills or Glendale. Some of his customers drive all the way from Hollywood, West Los Angeles and Beverly Hills.
His phone number is: (818) 249-2206
You can check Google Maps for directions to Lermont's Shoe Service.
After you try him, you'll agree with me that Lermont Moukoian is your #1 shoe repair expert in the Los Angeles area.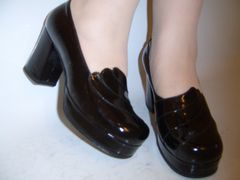 I wore all three pairs of these custom shoes very often while in Armenia.
My husband Patrick and I took these photos just recently to put them on this website.
As you can see they still are in excellent shape after all these years.
You can also check out my brother Albert's shoes by clicking on
Kids Dress Shoes that my Dad made for him back in 1975 when he was 3 years old.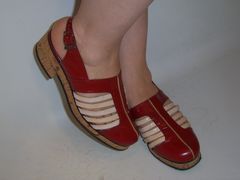 Those on the right are cork sole shoes that were in high demand back in the 1970s. I used to wear them almost daily.
Designing and making shoes like these require a lot of talent, imagination, skills and a lot of work. I've seen how my Dad designed and made these shoes.
The following pair of shoes are womens suede shoes that my Dad Lermont made for me back in 1972-1975. I still wear them.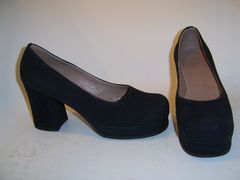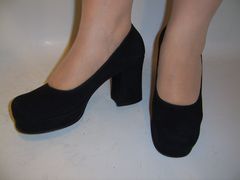 Return from Anna's Custom Shoes to
Shoe Repair Expert Home Page



Back to the Top
---
Back to the Top