The Old Shoemaster
"The Old Shoemaster"
Story and concept by Paul Thompson.
Adapted from a short story by Leo Tolstoy (AKA Lev Tolstoy).
Original title: "The Old Shoemaker"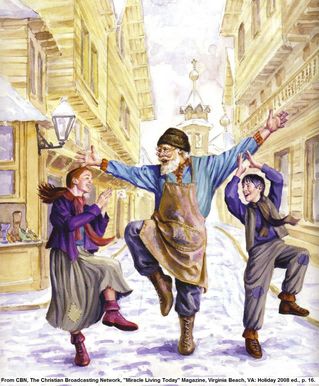 It was Christmas Eve. In a small Russian village, excited children were playing in the streets. Down the street shuffled an old shoemaker. He waved at the children as he made his way to his small shop on the corner.
Everyone loved the kind old shoemaker. He went inside and set to work making and mending shoes.
The old shoemaster stopped and stood in the window of his shop. He listened to the squeals of laughter as the children played, but his thoughts were far away.
He did not have a family, and on Christmas Day he would be all alone.
He sighed, picked a big leather-bound book from a shelf, and rested in his big old chair. He ran his fingers along the lines of the book. It was the story of Christmas. He read how the Wise Men had brought gifts for Jesus-the best gifts they could offer. He scratched his head, looked round his little room and thought, "If Jesus visited me, what would I be able to give Him?" Then he settled back in his chair, pulled up his favorite blanket and before very long, the warmth of the fire made him drowsy.
Outside, the children returned to their homes. A small group of children huddled together. They did not have a warm home to go to. They did not have parents to care for them. They were orphans. Slowly they made their way to the cold, empty orphanage and huddled together to keep warm.
Across the street from the orphanage, the old shoemaker was snoring gently. Suddenly he heard a voice in the room. "Dear old shoemaster, you were wondering what you could give Me. Tonight I am going to visit your village. Look out for Me. I shall not say who I am."
The old shoemaker jumped to his feet and rubbed his eyes. Jesus was coming to visit! What could he give Him? He was sure Jesus would like a hot drink on such a cold evening. So, he lit his stove and put a kettle of water on to boil. He was sure Jesus would like something to eat.
He looked in the larder and there was a fresh loaf of bread and soup ready for warming. When Jesus came, he could invite Him to sit in his chair, with his warm blanket around Him, and give Him a hot drink, soup, and fresh bread to eat.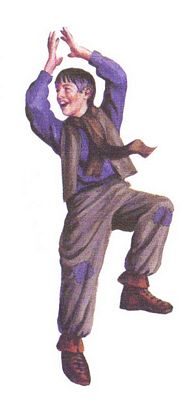 Tomorrow would be Christmas Day and he so wanted to give Jesus a special gift, but what could a poor shoemaker give Jesus? All of a sudden he knew. He could make Jesus a pair of his finest shoes. But what size were Jesus' feet? He would need to make a pair of his finest shoes in every size, and Jesus could have the pair of shoes that fitted Him best!
He set to work at once. As he worked, the old shoemaster suddenly heard footsteps. He rushed to the window. But it wasn't Jesus.
It was a young boy lighting lamps along the street. His coat was threadbare and he shivered as he worked. "How cold he looks," thought the old shoemaster, "I could give him my blanket, I still have other gifts for Jesus." He shuffled outside with his blanket and wrapped it around the shoulders of the young boy. The boy stopped shivering, smiled gratefully, and went on his way.
The shoemaster returned to his shop and carried on working. Just then, he heard voices outside. Had Jesus come? He rushed to the door. But all he could see was a group of children singing carols.
"It's Christmas Day, goodwill on earth,
Let's celebrate The Savior's birth.
God gave His love, what can I bring
That's worthy of a new-born King?"
The old shoemaster smiled and said, "Thank you. You must be so thirsty after your singing. I have hot drinks warming on my stove. I was saving them for a special guest, but I'm sure He won't mind. I have other gifts for Him." He poured them hot drinks and waved them goodbye.
No sooner had he gone back to his work than the old shoemaster heard a different set of footsteps. It must be Jesus! He rushed out into the street. But as the footsteps came closer, the old shoemaster recognized the figure of a poor widow and her children. How hungry they looked. "Come in and have some of my soup," said the kind old shoemaker, "I was saving it for a special guest, but I'm sure He won't mind. I still have another gift for Him."
The widow and her children went into the shop and warmed themselves by the fire. The old shoemaster gave them soup and fresh bread to eat.
Meanwhile, across the street, the children in the orphanage were getting ready for bed. They tucked themselves under the covers and fell asleep.
The poor widow and her children thanked the old shoemaster for his kindness and went on their way.
The old shoemaster looked at his clock. It was getting late. He must finish making his gift for Jesus.
Every so often he would look out of the window to see if Jesus was coming down the street. But no one came.
Just before dawn he finished making the shoes. He had a pair in every size, but Jesus had not come to collect His gift.
The old shoemaster stared out of his window. Tears streamed down his face. Jesus had promised to visit him, but Jesus had not come. What would he do with all the shoes he had made?
As the sun rose in the sky, he looked across the street at the orphanage and wiped his tears away. He had a wonderful idea! He gathered up the shoes into a sack. Then he tiptoed across the street and into the orphanage.
He placed a pair of his finest shoes by each child. Then he tiptoed back to his shop, sat in his comfortable chair, and closed his eyes. As he dozed, he heard the same voice he had heard the night before: "Thank you kind shoemaster. I visited you last night and you gave Me warmth. I was thirsty and you gave Me a drink. I was hungry and you fed Me, and, kind shoemaster, I was in the orphanage and you came to visit Me. Thank you for giving Me the finest pair of your shoes. Whatever you did for all these people, you also did for Me."
Christmas bells rang out across the village as the orphans woke to find their gifts.
Excited children rushed out to play. The old shoemaster shuffled out to join the Christmas celebrations. It was the happiest Christmas he had ever had!
__________________
In the Bible Jesus says, "And the King will answer and say to them, 'Assuredly, I say to you, inasmuch as you did it to one of the least of these My brethren [and sisters], you did it to Me!'"-Matthew 25:40, New King James Version.
__________________

CBN, the Christian Broadcasting Network noted that "17 Ukrainian orphans from the Starbuzburevka and Kherson orphanages recently visited the United States and performed a musical version of 'The Old Shoemaker.'
The joyous presentation, now an annual event, was made possible by the support of CBN partners, CBN's Operation Blessing, and Orphan's Promise-CBN's international ministry to vulnerable children.
"In Ukraine and 19 other countries, Orphan's Promise is reaching out to children in need through life-skills training classes, computer and English classes, and summer camp programs, as well as distributing food, clothing and other supplies.
"For further information about 'The Old Shoemaker' musical play and the work of Orphan's Promise, visit online:" The Old Shoemaker (p. 19).
__________________
Resources:
Pictures & story were taken from CBN, The Christian Broadcasting Network, "Miracle Living Today" Magazine, Virginia Beach, VA: Holiday 2008 edition, pp. 16-19.
(In the title and in the story the word "shoemaker," in most occurrences has been replaced with the word "shoemaster" by Patrick & Anna, November 2008.)
__________________
You can find many other Children's Books here.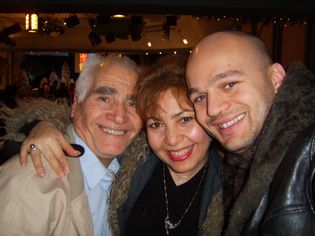 My Dad Lermont is a real life shoemaster and a shoe repair expert. But above all, he is a loving father and grandfather. It breaks his heart to see that there are so many children in our world growing up without parents and family...
My Dad Lermont, my husband Patrick and I support Ukraine orphans and other orphans around the world through the Christian Broadcasting Network (CBN), The 700 Club.
One of CBN's ministries is called Operation Blessing International that has a special project called Orphan's Promise. They support thousands of orphans around the world including Ukraine orphans.
We strongly encourage you to support those Ukraine orphans, American orphans, orphans in Russia, Africa, Vietnam, India, and orphans around the world. When you support them, you give these orphans hope that someone cares for them.
In the Bible the Word of God teaches us, "Learn to do good; seek justice, rebuke the oppressor; defend the fatherless, plead for the widow" (Isaiah 1:17, NKJV).
"For whatever a man sows, that he will also reap" (Galatians 6:7b, NKJV).
"Blessed is he who considers the poor; The Lord will deliver him in time of trouble" (Psalm 41:1, NKJV).
If you would like to support orphans around the world or help people in need, go to CBN Outreach.

You can find many interesting Children's Stories here.

Return from The Old Shoemaster to
Shoe Repair Expert Home Page



Back to the Top
---

Do you know that Christians can legally Opt Out of OBAMACARE (Affordable Care Act)? If you are a Christian, and you are looking for Affordable Healthcare click on the image: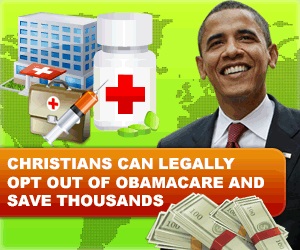 Back to the Top
When you click on links to various merchants on this site and make a purchase, this can result in this site earning a commission. Affiliate programs and affiliations include, but are not limited to, the eBay Partner Network.